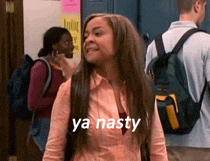 The above GIF is probably be best/only way to describe what my beast of a horse has turned into lately. Honestly.
She has never been one to have a shitty attitude while in heat. Ever. This year is clearly a whole different story though.  She is also in her second heat of 2019. How?! WHY?!!!!! Oh wait…..it's because there is a gelding living in the mare pen. For the second winter in a row. Did I mention she also hates him? But her hormones say otherwise….
I've started her on a Magnesium supplement ( that her body worker suggested like a year ago) in hopes that it would help her anger to being brushed and maybe make her a happier pony. She's only been on it for a couple of weeks now but I am seeing a difference. I can brush her without seeing the snake face at least so I am taking that as a win.
Little backstory – a couple, maybe 3, years ago, she came in one day in the spring with a weird swelling in front of her udders. Right about where her scar from her surgery as a foal was. She was also OBESE coming out of that winter. Asked one vet – thought it was just a fat deposit so we put her on a diet. Which just stressed her out and she ate very little over like 5 days not being in her normal pen. Hey….she did lose weight which was the ultimate goal so it counts right?
She lost some weight and it seemed to help. That vet thought maybe she was coming in her first heat and it was related to that. K, whatever. But then in the fall it came back in full force and this time it was warm. Cue me freaking out. Because what's new there?
Had an other vet out and we decided to do an internal ultrasound. Which showed nothing. But the vet that she had been a broodmare before….because she must be fairly flappy back there.
Thing's haven't been too concerning since then. Occasionally I notice that it is maybe a bit more swollen then normal. But this winter she has been so incredibly grumpy. She was getting older meds when she was on stall rest which made no difference really, so we ruled out ulcers. Which I only chose to do because I wanted to get that worry off my mind – the vet didn't think it was ulcers at all.
Then she came back to work and it got worse – so out came the saddle fitter. Then she got better. Then she was even worse so I tried a new girth. Which made her better because she is clearly also a princess. In case you didn't know that already. Then came the Magnesium.
It seems to be helping….let's hope it stays that way. I want my nice pony back !